Custom Metal Fabrication in East Texas
Meet the team supporting Jacksonville, Texas, and beyond
At Blue Goose Customs & Fabrication, it's our mission to provide both commercial and residential clients with gorgeous, one of a kind metal fabricated products. From fences and gates, to entryways, and more– Blue Goose offers customized metal solutions for all types of structures. Our team also specializes in powder coating, adding a glossy finish to your project. No matter what your metal fab needs are, Blue Goose is the team to call.
Blue Goose Customs & Fabrication: A Local Favorite
Property owners in East Texas often come to us because they're not only looking for a durable barrier for their property– but they want something beautiful and custom-made. Whether they need a fence, a gate, an entryway, or even signage; our clients come to us looking for an all-in-one solution. Thankfully, our team has the bandwidth and the experience to provide all aspects of metal fabrication and powder coating, along with exceptional customer service.
That's the Blue Goose difference. Instead of compiling a phone list of various metal shops, welders, and powder coating experts– why not go find yourself a team that can do it all? Here at Blue Goose Customs & Fabrication, it's our job to design, cut, and carefully build your new structure, and then our team is happy to complete the final powder coating to seal and beautify the product. 
Not to mention, we install all of our gates and fences with the automation of operators. This allows you to conveniently open your entryways with remotes or keypads. 
When you work with Blue Goose, you're supporting your local family-owned and operated business. Each project is overseen by our founders and is quality inspected to make sure everything looks perfect. 
It all started back in a garage in 2017. Our founders Brady & Rayne Chapman were learning how to properly apply powder coating to products like Yeti Tumblers. After learning the basics, they moved on to do powder coating for custom metal gates, entryways and handrails.
As their skills improved and their team grew, Brady & Rayne realized that there was a great need for professional powder coating services. Their team was determined to become the best powder coating experts in East Texas. Over the years, the team has worked tirelessly to sharpen their skills and enhance the quality of their craftsmanship.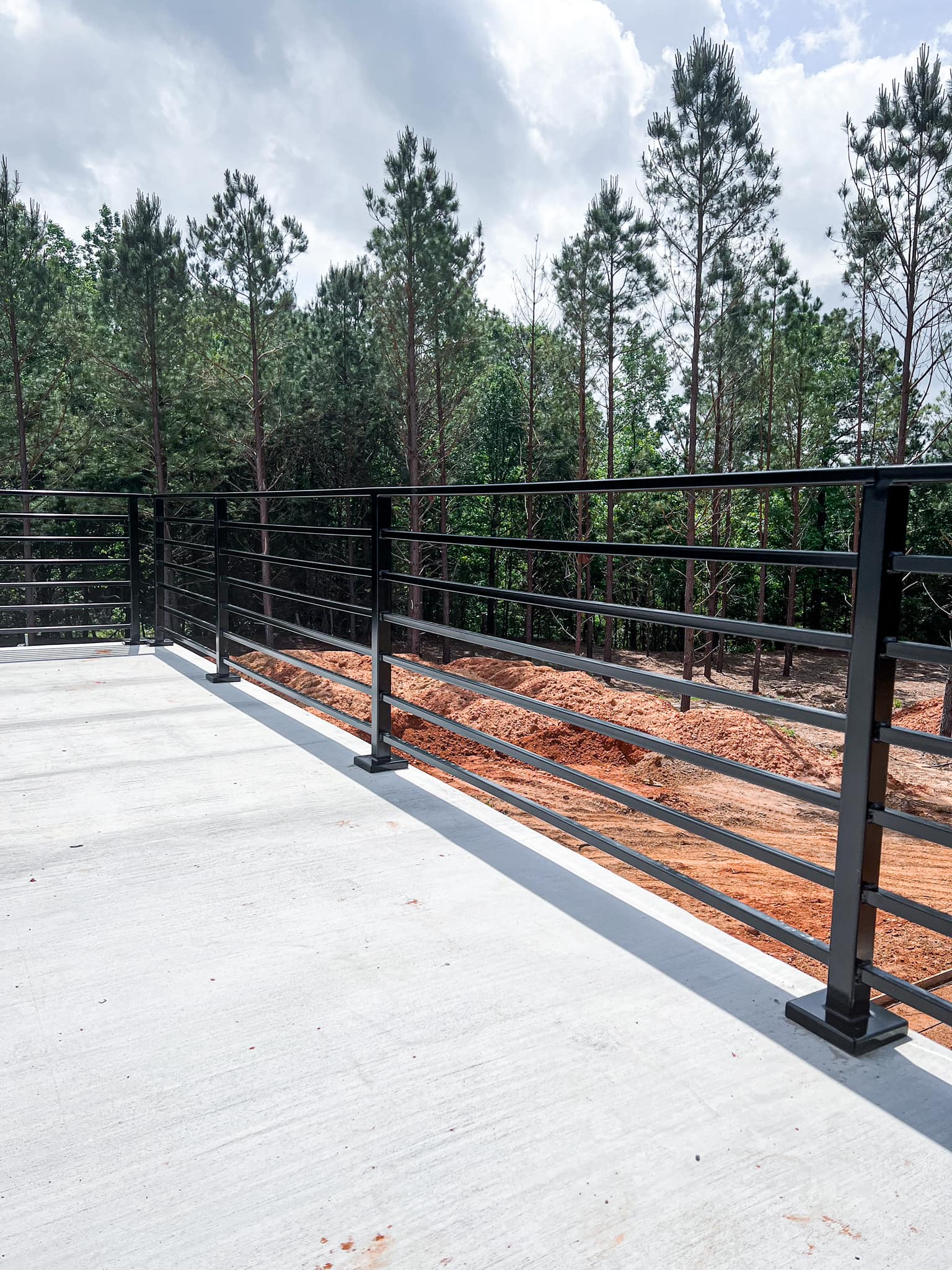 Then, after working with a variety of metal fabrication companies– Brady & Rayne Chapman and their team decided to take the plunge and begin their own metal fabrication services. The team purchased their own equipment to develop the custom metal fabrication products themselves, and Blue Goose Customs & Fabrication was officially born.
Today, Blue Goose offers fully customized metal fabrication solutions, coupled with expertly-applied powder coating for a long-lasting finish. 
Our business is on the brink of expansion, and we're happy to offer our exceptional design, laser cutting and CNC plasma cutting, and metal fabrication services to both commercial and residential customers. Whether your gate needs a powder coat touch-up, or you're ready to build a brand new metal fence– Blue Goose has you covered.
In addition to providing one-of-a-kind metal fabrication solutions, our main focus is doing whatever it takes to make our clients happy. That's why we prioritize open communication and make sure to keep our clients in the loop about the progress of a project. All of our staff are passionate about supporting their local community of Jacksonville, Texas; as well as clients all around East Texas. Making our customers happy is why we do what we do! 
No matter what your metal fabrication needs are, give us a call at Blue Goose. Our team will be happy to help you come up with an incredible solution that's as unique as your specific situation. Contact us today to learn more.
Blue Goose Customs & Fabrication Serving Jacksonville, Texas, and Beyond
If you're in need of a new metal structure, why not make it beautifully customized? You can count on Blue Goose to create a metal structure that you will be proud of. Our team of experts delivers beautiful,  all-in-one metal fabrication solutions.
Blue Goose Customs & Fabrication offers everything from design ideation to precision metal cutting, powder coating, and implementation. Take advantage of everything we have to offer!